Last Updated: Tuesday, May 30th, 2023 (8:12 AM)
Lake Luzerne, a Scenic Town in Upstate NY & the Adirondacks
Come to Lake Luzerne to enjoy a confluence of waters. Here, the Hudson River squeezes into a narrow gorge, tumbling over the dramatic Rockwell Falls. Water from the Great Sacandaga Reservoir joins the river in a flurry of white water. Further downstream, the river widens into "The Bay," a stretch of water broad enough for water skiing. For those who seek quiet water, a chain of four beautiful lakes offer fishing, camping and boating with two public swimming beaches on Lake Luzerne itself.
Lake Luzerne has catered to visitors since President Grant came here for rest and recreation after the Civil War. The grand old hotels of that day have given way to modern inns and restaurants, while new tennis and basketball courts, a miniature golf course, and three local history museums, along with summer concerts and craft shows, offer a variety of family fun. Two riverside parks also flank the downtown area.
Lake Luzerne is the home of a worldwide renowned music camp. In winter, snowmobilers can ride over 200 miles of forest trails. Signs for the "Dude Ranch Trail" hearken back to the days after World War II, when the old logging camps found new life as Dude Ranches. The Rodeo is still going strong after more than 60 years and several stables along Route 9N still offer horseback riding.
A special thanks to Bob English & Luzerne Productions for this amazing video about our community! Click here to visit Luzerne Productions' website to learn more about the services they offer.
Visit our Event Calendar to see what happenings are going on in and around Lake Luzerne.
Like us on Facebook , follow us on Instagram, & subscribe to us on YouTube!
For more information about the Town of Lake Luzerne, visit the Lake Luzerne Chamber of Commerce's website.
---
Lake Luzerne Town Hall Complex: Hours of Operation
539 Lake Avenue, Lake Luzerne, NY  12846
The building is open 8:30 AM-4 PM.
Assessor: 8:30 AM-3 PM (Mondays, Tuesdays, Thursdays, & Fridays — Closed Wednesdays)
Justice Court: 9 AM-2 PM (Mondays & Tuesdays), 9 AM-3 PM (Wednesdays — Closed Thursdays & Fridays)
Town Clerk: 9 AM-4 PM (Mondays-Fridays)
Zoning Enforcement: 8:30 AM-4:00 PM (Mondays-Thursdays — 9 AM-4 PM on Fridays)
---
Installation of the herbicide ProcellaCOR in Lake Luzerne will take place Wednesday, May 31st.  This treatment will kill the invasive Eurasian Watermilfoil plant.  Treatment is expected to start at approximately 10AM and take 3 to 4 hours.  There are no restrictions on lake usage during anytime, except to stay out of the path of the treatment board.  Contact the Town Hall with any questions.

---

NOTICE OF PUBLIC HEARING

TOWN OF LAKE LUZERNE

JUNE 12, 2023

7 PM

COMPREHENSIVE PLAN

THE TOWN BOARD WILL HOLD A PUBLIC HEARING ON JUNE 12, 2023, AT 7 PM, IN THE MEETING ROOM OF THE LAKE LUZERNE TOWN COMPLEX, 539 LAKE AVENUE, LAKE LUZERNE, NY 12846. THE PURPOSE OF THE HEARING IS TO HEAR PUBLIC COMMENT ON THE FINAL DRAFT OF THE TOWN OF LAKE LUZERNE COMPREHENSIVE PLAN.   A COPY OF THE PLAN CAN BE VIEWED AT THE TOWN CLERK'S OFFICE DURING OFFICE HOURS 9AM TO 4 PM, MON-FRI, AND ON THE TOWN'S WEBSITE AT TOWNOFLAKELUZERNE.COM. PLEASE TAKE FURTHER NOTICE THAT AT THE TIME AND PLACE OF THE PUBLIC HEARING, ALL INTERESTED PERSONS WILL BE GIVEN AN OPPORTUNITY TO COMMENT ON THE FINAL DRAFT.

LAKE LUZERNE TOWN BOARD

CYNTHIA SHERWOOD, TOWN CLERK

PUBLISH: MAY 19 2023

>> Click Here for the Final Draft PDF of the Town Comprehensive Plan <<

---

>> Click Here to View Local Law No. 1 of 2023 (Local Law Regulating Short-Term Rentals in Lake Luzerne) <<
The Short-Term Rental Application is Available for Pick-up in the Zoning Enforcement Office during Office Hours, as well as Electronically via Email.

---

Lake Luzerne Leadership Hosts Informational Panel Fighting Milfoil
Civic leaders from throughout the Southern Adirondacks joined together on April 19th in Lake Luzerne Town Hall, for a Panel Discussion on the community's efforts to fight invasive species and milfoil throughout the region. The 90-minute interactive presentation drew a variety of concerned citizens, aquatic scientists, and lake association leaders along with governmental officials in addressing the various methods utilized to control invasive species.   A portion of the program was centered on the Town of Lake Luzerne's application for the ProcellaCOR treatment along with an educational program to be coordinated with the Lake Luzerne Association for all lake shareholders. The event, hosted by Town Councilman Jim Niles of Lake Luzerne,  was a representation of the type of efforts now occurring throughout the Adirondacks in order to address the growth of invasives species, milfoil and the hazards of erosion.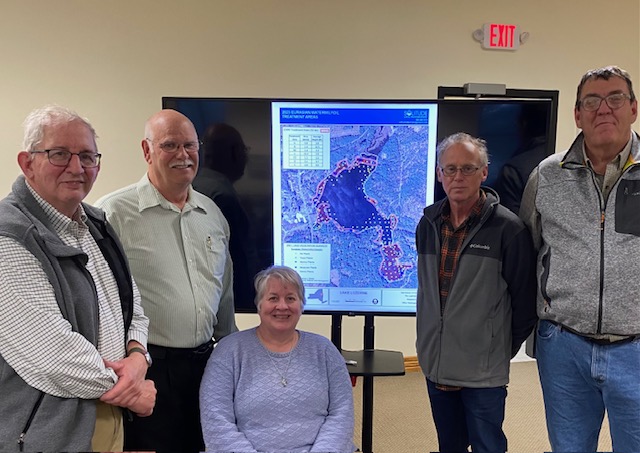 L-R / Dr. Dean Long, Lakewater Consultant, Councilman Jim Niles of the Town of Lake Luzerne, Jane Oppenlander of the Lake Luzerne Association, Paul Derby of the Glen Lake Protective Association and Steve McNally, Town Supervisor of the Town of Minerva.
---
2023
TOWN OF LAKE LUZERNE
NOTICE OF ROAD CLOSURE
TO TRUCK OPERATORS
PURSUANT TO SECTION 1660-SUBDIVISION (a) 11 OF THE NEW YORK STATE VEHICLE AND TRAFFIC LAW, AND EFFECTIVE IMMEDIATELY, ALL TOWN ROADS SHALL BE POSTED TO EXCLUDE ANY VEHICLE WITH A GROSS WEIGHT OF SIX (6) OR MORE TONS. SUCH EXCLUSION SHALL REMAIN IN EFFECT UNTIL SIGNS ARE REMOVED BY THE HIGHWAY SUPERINTENDENT. ANY VIOLATION OF THIS ORDER SHALL BE SUBJECT TO PUNISHMENT AS PROVIDED IN SECTION 1800 OF THE VEHICLE AND TRAFFIC LAW.
BY ORDER OF THE RON DEUEL
TOWN OF LAKE LUZERNE
HIGHWAY SUPERINTENDENT
MARCH 21, 2023
---
>> Click Here for the Proclamation in Appreciation PDF <<
---
HHHN Mobile Health Unit Available in Lake Luzerne
Hudson Headwaters Mobile Health offers primary care, pediatric and adolescent medicine and gynecology. Mobile Health can supplement your primary care needs or be used as your primary care provider. All are welcome here, regardless of your insurance or ability to pay.
Hudson Headwaters Mobile Health Unit is available the 1st & 3rd Thursdays each month at 539 Lake Avenue, Lake Luzerne, NY (also available on the 5th Thursday of the month, when applicable).
Call (518) 623-0871 to establish as a patient/make an appointment.
---
Announcements
LAKE LUZERNE'S ANNUAL DRINKING WATER QUALITY REPORT AVAILABLE | Click Here to View Lake Luzerne's Annual Drinking Water Quality Report for 2022.
LOCAL LAW NO. 1 OF 2023 | Click Here to View Local Law No. 1 0f 2023, a Local Law Regulating Short-Term Rentals in the Town of Lake Luzerne.
TOWN BOARD AGENDA MEETING RESCHEDULED | Due to the Memorial Day holiday, the May 29th Town Board Agenda Meeting has been rescheduled to June 1st.
EURASIAN WATERMILFOIL CONTROL | Click here for more details on Eurasian Watermilfoil Control.
LAKE LUZERNE ASSOCIATION'S MILFOIL NEWSLETTER AVAILABLE | Click here to view the Lake Luzerne Association's Milfoil Newsletter.
LAKE LUZERNE'S 2021 AQUATIC VEGETATION REPORT AVAILABLE | Click here to view the report on Lake Luzerne's Aquatic Vegetation.
LIMITED AT-HOME COVID-19 TESTS AVAILABLE | The Town of Lake Luzerne has a LIMITED number of at-home COVID-19 tests available. These can be found at the Town Clerk's office.
STREET LIGHTS | In an effort to keep all street lights working, we are asking that if you see a light that is not on, please get the numbers off the pole and call the Town Hall with the numbers and location, so a repair request can be made to National Grid.  The number to call is (518) 696-2711, ext 2.
---

>> Click Here to Call the Zoning Office <<
>> Click Here to Email the Zoning Office <<
---
ZONING ENFORCEMENT, KAREN PUTNEY | Zoning Office hours will be Monday thru Thursday 8:30 am to 4:00 pm (Fridays, 9 am-4 pm).  Call 518-696-2711, ext. 4 and leave a message, or email Karen at [email protected].
---
Lake Luzerne's 2022 Assessment Statistics
Lake Luzerne has 2,992 parcels with a taxable town value of $434,377,039
2022 Level of Assessment: 86%
The current Assessment Roll may be inspected at the Assessor's Office in the Town Center at 539 Lake Avenue, or on the Warren County website at www.warrencountyny.gov/rp/rolls.
Please Note: Our office needs to keep mailing addresses up to date. Please advise when changed.